Join Our Cutting Edge 24/7 Online Award- Winning Virtual Trade Show
People are busy, booths at traditional trade shows are expensive for a one weekend event, and everyone is searching online for solutions to meet their needs. These are just a FEW reasons to join us as we change the face of home and business tradeshows at the Lake.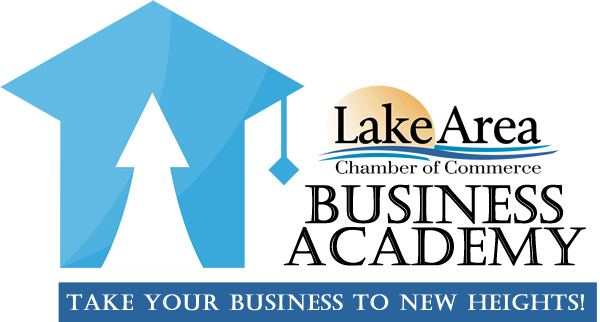 3rd Annual Lake Area Chamber Business Academy Starts Jan 6, 2021 and Features Six Incredible Sessions!
Calling all veteran and new business owners, top level managers, and team members that you want to develop into business leaders! The 3rd Annual Lake Area Chamber of Commerce Business Academy kicks off in January 2021 and we are currently accepting registrations. The class is limited to 20 people in non-competing business, so don't wait if you want to attend! First come, first served!
SESSION TOPICS, PRESENTERS, & SIGN UP HERE
Testimonials from 2019 Academy Participants:
"This was one of the best things I have done to improve as a business owner. It forced me to think about my business, my future, and take action. Thank You!"
"It was a great mix of topics to benefit business owners and employees. VERY eye opening to dive deeper into various segments."
"I thought the academy was amazing. I will definitely encourage others to participate in the next session!"
"Wow - this did not disappoint! As a business owner of 19 years, I still took away valuable information from every single session. Thank you, thank you!"
Lake Area Chamber of Commerce Responsibilities and Involvement:
In addition to serving as a voice, resource, and marketing partner for member businesses and non-profit organizations, the Lake Area Chamber of Commerce coordinates and engages in the following:
Lake Chamber Business Academy - Focused Learning
Lake of the Ozarks lighted Welcome Marquee & Welcome Garden
Magic Dragon Street Meeting Nationals - Approaching our 32nd Annual Event
Mardis Gras Pub Crawl - Largest in the Midwest & proven to start tourist season well before Memorial Day!
Annual Cocktails & Caddies Golf Tournament - Collaboration & Networking Fun
Monthly Business Networking Socials - Rotating to Spotlight Local Businesses
Eggs & Issues Educational Seminars - Keeping Up with Current Topics
Willmore Lodge Visitors Center -National Historic Building, Part of our History and Welcoming over 20,000 Visitors Annually
Young Professionals at the Lake - Engaging Young Professional in Business and Fun
Annual Legislative Reception - An Event Focusing on Our Local Future
Numerous annual events, networking opportunities and workshops to support, engage and grow Lake of the Ozarks Community

The Lake Area Chamber of Commerce is a private, non-profit, membership-driven organization comprised of over 500 business enterprises, civic organizations, educational institutions and individuals. The Lake Area Chamber serves the Lake of the Ozarks community including North Shore, Lake Ozark, Horseshoe Bend, Osage Beach, Kaiser and Linn Creek.  It is one of five chambers that surround the Lake of the Ozarks and is one of the largest in Central Missouri.
JOIN US WEEKLY
Join us on Wednesdays at 9 am to connect with our Chamber Team and your fellow Chamber Member peers. Each week we discuss current challenges and share resources that are available to our members. We've been delighted to welcome several various community leaders to share the latest updates for our community as well.  Please use the registration button below to get registered today!