DOWNLOAD THE MEMBERSHIP DRIVE FLYER TO SHARE WITH FRIENDS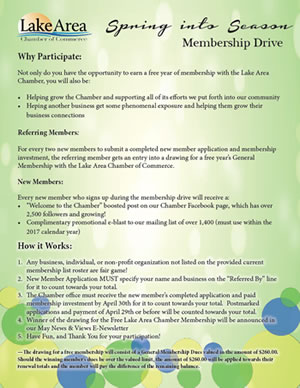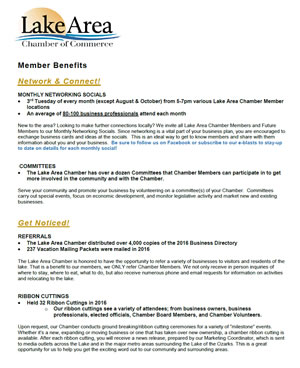 PRINT THE NEW MEMBER APPLICATION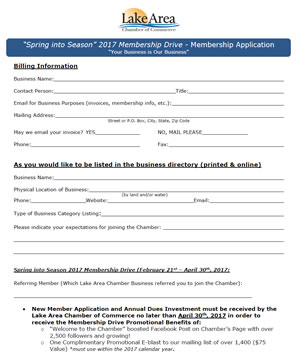 Why Participate as an Existing Member?
Not only do you have the opportunity to earn a free year of membership with the Lake Area Chamber, you will also be:
Helping grow the Chamber and supporting all of its efforts we put forth into our community
Helping another business get some phenomenal exposure and helping them grow their business connections
What You Get
Referring Members:
For every two new members to submit a completed new member application and membership investment, the referring member gets an entry into a drawing for a free year's General Membership with the Lake Area Chamber of Commerce.
New Members:
Every new member who signs up during the membership drive will receive a:
"Welcome to the Chamber" boosted post on our Chamber Facebook page, which has over 2,500 followers and growing!
Complimentary promotional e-blast to our mailing list of over 1,400 (must use within the 2017 calendar year)
How it Works:
Any business, individual, or non-profit organization not listed on the provided current membership list roster are fair game!
New Member Application MUST specify your name and business on the "Referred By" line for it to count towards your total.
The Chamber office must receive the new member's completed application and paid membership investment by April 30th for it to count towards your total. Postmarked applications and payment of April 29th or before will be counted towards your total.
Winner of the drawing for the Free Lake Area Chamber Membership will be announced in our May News & Views E-Newsletter
Have Fun, and Thank You for your participation!
The drawing for a free membership will consist of a General Membership Dues valued in the amount of $260.00. Should the winning member's dues be over the valued limit, the amount of $260.00 will be applied towards their renewal totals and the member will pay the difference of the remaining balance.
Get a List of Current Members Here (So You Know Which Businesses to Recruit for the Drive)