Member Benefits
JOIN THE LAKE AREA CHAMBER OF COMMERCE TODAY!
When you join the Lake Area Chamber of Commerce
ALL of these great benefits are available to you:
REFERRALS:  The prime responsibility of your Chamber is providing direct reference service for member businesses.  ONLY Chamber members are referred by our office.
RIBBON CUTTING:  Upon request, our Chamber conducts ground breaking/ribbon cutting ceremonies for new, expanding or moving businesses.  This valuable publicity for your business is a benefit of membership.
EBLAST:  General advertising guidelines apply to broadcast email.  Members are allowed to participate by providing 150 word text copy and limited graphics to the Chamber at a cost of $75.00 per blast (jpeg please). 
SOCIALS:  Monthly Networking Socials are held on the third Tuesday of each month from 5:00pm to 7:00pm in various locations in the Chamber area. There is a cash bar and complimentary hors d'oeuvres.  The October social is the annual membership dinner and business meeting of the Chamber.  Since networking is a vital part of your business plan, you are encouraged to exchange business cards and ideas at the socials.  This is an ideal way to get to know members and share with them information about you and your business.
NEWSLETTER: Our monthly newsletter is emailed to members of the Chamber of Commerce and available on the web site.  Advertisers (business cards) will be listed in the broadcast email announcement.  This will provide updates on endeavors of the LACC and its members. 
You are encouraged to write a 150-word "Business Spotlight" article about you and/or your business that introduces you and your services to our members.  We encourage logos and articles.  The article must be submitted by the twentieth of the month. 
For a fee of $90.00 per quarter you can participate in the Chamber newsletter with a business card-size ad.  Only 20 business card-size ads are permitted and a waiting list is kept in the Chamber office. Upon request, your special events may be publicized through the newsletter and/or Chamber website event calendar.
ONLINE MEMBERSHIP DIRECTORY: Constantly updated, find member businesses with ease at www.lakeareachamber.com.  Enhancements, links or display advertising can be purchased if desired. 
WEB LINK: Visit us at www.lakeareachamber.com and view the entire membership, the newsletter, event specials and seasonal promotions and calendar of events of the Lake Area.  Add a hyper-link to connect your web site for $50.00 annually.
BROCHURE DISPLAY RACKS:  Our Chamber office provides display racks (Willmore Lodge Visitors Center and Osage Beach City Hall), where members' brochures can be displayed for thousands of annual visitors to the lake and for those people relocating.
SPECIAL EVENTS:  The Chamber sponsors a number of events to attract more visitors to the Lake therefore, generating more overnight stays and traffic for area businesses.  Additional marketing / promotional opportunities exist with each event.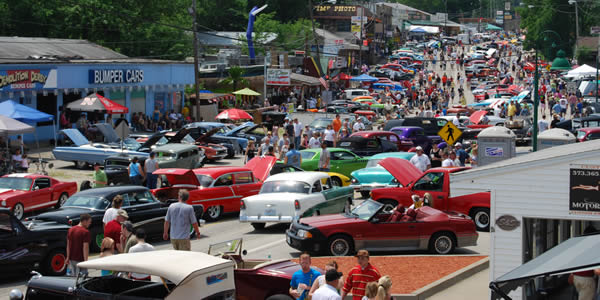 NEW MEMBER MENTOR:  New members will be paired up with an existing member, who will act as a Mentor, for the first year of membership.  The Mentor will keep in contact with the new member and be another point of contact throughout the first year to ensure they are aware of what is coming up and what opportunities exist.
BENEFACTOR COMMUNITY INVESTMENT PROGRAM:  If you choose to participate:
Your business will be listed in the appropriate category in the monthly newsletter.
Your business will be promoted through signage at monthly networking socials.
Your business will be recognized in the Annual Report which begins distribution at the Annual Dinner. Supporters: $25-49.99 • Patron: $50-74.99 • Investor: $75+
GATEWAY PROGRAM: The monthly Gateway mailing is the connection to seven State Welcome Centers and three Affiliate Welcome Centers which are considered to be the "gateways" to Missouri and the Lake of the Ozarks.  Your business can be included in this program of information distribution for an additional fee.
EGGS & ISSUES BREAKFASTS:  Six Eggs & Issues Breakfasts will be hosted among the three Chambers serving the Lake Area:  Camdenton, Lake Area and Lake West.  Two breakfasts will be held in each service area.  Topics affecting the Lake Area and the business community will be the focus. Sponsorships are also available for this program to further promote your business.
SPEED LEADS NETWORKING LUNCHEONS:  Three Speed Leads Networking Lunches will be held among the three Chambers serving the Lake Area:  Camdenton, Lake Area and Lake West, with one held in each service area, which will offer direct networking in a fun and fast paced environment.  Sponsorships are also available for this program to further promote your business.
MEMBERSHIP LIST:  Upon request, a complete Excel spreadsheet of Chamber members is provided of nearly 600 businesses.  This is an excellent resource for direct mailings.
PROFESSIONAL DEVELOPMENT: The Chamber has partnered with Coggno, the premier internet source for thousands of online training courses. We are now offering our member businesses the opportunity to purchase, through our website, a carefully selected assortment of online training courses that are relevant to your needs.
COMMITTEES: Serve your community and promote your business by volunteering on a committee(s) of your Chamber.  Committees carry out special events, focus on economic development, monitor legislative activity and market new and existing businesses.
FORT LEONARD WOOD PROGRAM: The monthly Fort Leonard Wood program participants are represented at the monthly orientation for new incoming permanent parties to the base.  Your business can be included in this Program of information distribution for an additional fee.
DEMOGRAPHIC PROFILE:  Complete Statistical demographics and a data profile are available for an additional fee.  A synopsis of the demographic information in the form of a Snap Shot is free. Rev. 06/15
---
Kickstart Your Business
Take advantage of a membership in Lake of the Ozarks Chamber of Commerce and immediately start seeing results.
Subscribe To Our Email List